Planting the Seeds of Hope for a Post-Pandemic Parish
Out of the darkness of the pandemic emerged a bright symbol of hope; a community parish garden project that cares for both community and common home.
"When you're here, you could be anywhere in the world. We're less than a mile from the motorway junction but it's just so peaceful."
High on a hill overlooking spectacular vistas of the valley below, parish volunteer and dedicated member of The Hope Garden team, Stephen Bromley, speaks so fondly of the beautiful grounds of the parish of St John Fisher in Kearsley.
Home to England's only Schoenstatt Shrine, this parish is truly unique, and not just because of its iconic Bavarian-style chapel.
In a bid to make better use of the parish grounds for the many people from across the world who travel and stay at the shrine, in addition to strengthening ties with the local community, work began on creating a welcoming space where people could come and spend some time outdoors.
Work began cutting back the overgrown trees next to the on-site cottage, making way for a colourful expanse of space which families, individuals, or parish groups could come and enjoy.
Thanks to a tireless team of volunteers, a talented artist, and incredible support from local tradesmen and suppliers who donated time, materials, and expertise at no cost, the grounds of St John Fisher's were transformed with vibrant planters, beautiful borders, and exquisite artwork.
The grounds offer a number of distinct areas, such as the Peace Garden – a stunning area for quiet reflection overlooking views of the valley with an extraordinary eight-sided mosaic structure at its heart; to the Hope Garden – a kaleidoscope of colour where families can meet, children can play, and people can contribute to the care of the garden.
"The Hope Garden is so symbolic now."
Next to the wheelchair-accessible planter that also combines as a seating area, is the spectacular plastic bottle top mosaic.
Made up of 2,000 – 3,000 plastic bottle tops, this stunning display captures the very essence of the creation story: the earth itself, governed by day and night. With a nod to the Schoenstatt Shrine on the left, and a lighthouse on the right, the message of hope rings right through this incredible work of art, with the peace and hope of God's rainbow at its heart.
Stephen commented: "We started making it in the pandemic and it just happened that the rainbow became a real symbol of lockdown. We asked parishioners to bring in all of their bottle tops and we collected thousands.
"The UK uses 7.7 billion plastic water bottles each year, so by trying to use the bottle tops, we hoped this would be visually pleasing but that it would also send an important message."
From exploring ways to reduce waste and reliance on single-use plastic at events, in addition to investing in a water tank to collect rainwater to water plants in the summer, volunteers at St John Fisher's have plenty of ideas to inspire more care for our common home within the community.
Stephen said: "We don't want the garden to be ornamental. We want to encourage people to have a go, and if they go home and do a little bit at home, that's great.
"I remember Bishop John saying that it's the little things that can make a big difference, like turning the tap off while you're brushing your teeth.
" It might not seem like a big thing but the aggregate effect of that can be really effective."
"All told, it's been a fantastic project", Stephen said. "The only wrinkle was the pandemic. We had hoped to have the garden open for Easter 2020, but it gave us a little bit of time to think things through and not rush into anything."
The work was completed in Summer 2021, and was celebrated with a blessing from Bishop John in October.
Stephen said: "It was great – and lovely to see some faces of people who don't usually come to church. And that's what it's about – it's there for everybody. If people can come and get a little bit of enjoyment, peace, or conversation, then job done."
Celia Eccleston, another volunteer who was instrumental in securing vital funding for the project, is eager to encourage more families to enjoy the space, in addition to offering support to people who may have become disengaged with the Church.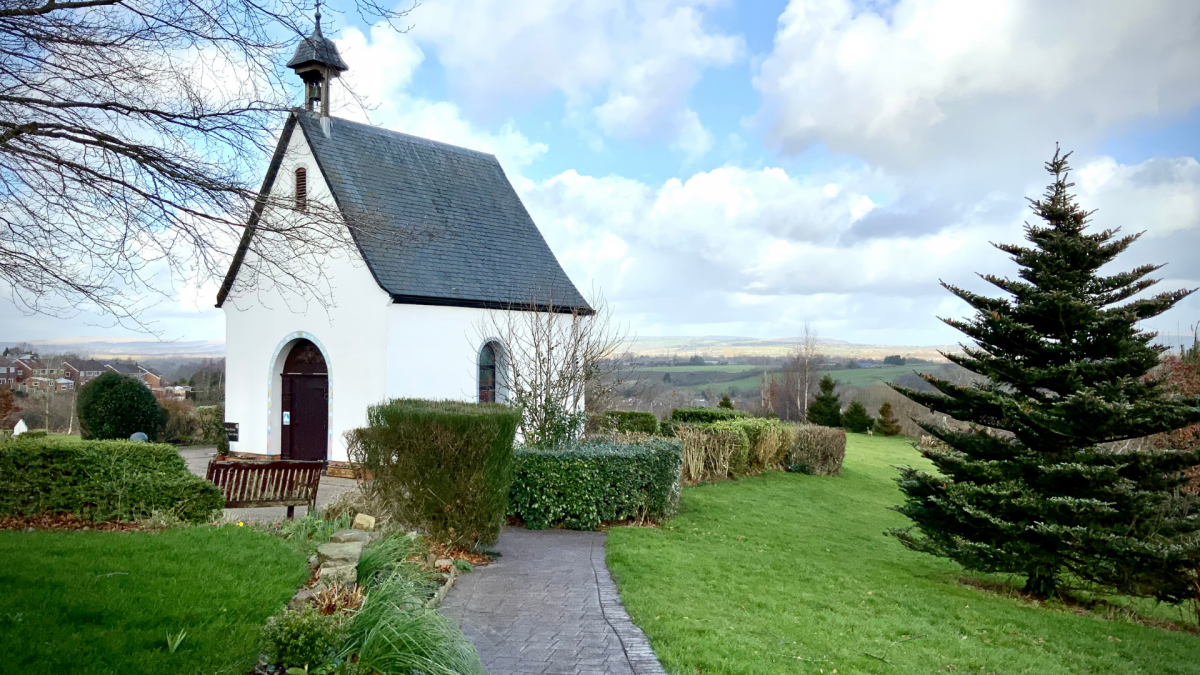 She explained: "There are people who don't feel worthy to come to Mass, but they can come here, visit the Shrine, make their peace with God, and in their own time, think about confession, or Mass.
"And that's so important, particularly now as we go into Lent.
"We prayed The Rosary in the garden last year, and that was very well supported."
Stephen added: "Sometimes, people who aren't religious feel uncomfortable coming to church, but they don't feel uncomfortable sitting outside in the garden.
"We get a lot of people coming here of all religions and none. Even if you're not religious, there's a lot of spirituality about the place, and that's because of the peacefulness."
"When you're here, you could be anywhere in the world."
As the world reels from the news of war of in Europe – a world already wounded from the pandemic – peace is a blessing not too easy to come by, and one Celia believes we need to pray for more than ever.
She said: "The world has changed since Covid, and now we have the news from Ukraine.
"When I heard the news, all I wanted to do was go to Church – and others were the same."
"The Hope Garden is so symbolic now. That's what we have to do now: hope and pray. Prayer is our only option."